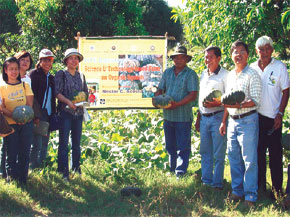 Magsasaka-Syentista (MS) or farmer-scientist, Mr. Nestor Acosta of the Farmers' Information and Technology Services (FITS) Center, Bacarra, Ilocos Norte showcased his organic squash farm during the Field Day held last January 12 for the PCARRD-Ilocos Agriculture and Resources Research and Development Consortium (ILARRDEC) project, "S&T-based model farm for organic vegetable production in ILARRDEC."
PCARRD, together with around 70 farmers, researchers, extension workers, and local government officials, attended the activity.
Mr. Acosta presented the costs and returns of the organic farming introduced by the project, and his existing practice of applying 75% organic and 25% inorganic fertilizer. The package of technology (POT) introduced to the organic farm includes the application of cheaper organic inputs such as tea manure, fermented plant juices (FPJ), compost, and carbonized rice hull. Preliminary analysis shows that the POT on organic farming is comparable to the farmer's practice, and could even exceed the farmers' previous level of production, based on trend in harvests.
Bacarra Mayor Phillip Velasco and Ilocos Norte Provincial Agriculture Officer (PAO) Norma Lagmay expressed support to the project, and encouraged the participants to promote and practice organic farming. Dr. Digna Manzanilla, Director for Agricultural Resources Management Research of PCARRD, expressed PCARRD's continuous support to promoting science-based technologies that would enhance and sustain agricultural production. Particularly, Dr. Manzanilla emphasized PCARRD's advocacy for organic farming as a sustainable production system. Ilocos Sur PAO Teofilo Quintal, members of the Sangguniang Panlalawigan and Sangguniang Barangay, and the Barangay Chairmen from nearby barangays were also present.
As part of PCARRD's banner program for R&D results utilization or the Techno Gabay, the S&T- based farm on organic vegetable production demonstrates the effectiveness of S&T interventions in improving productivity and income of farmers. Organic vegetables are the focus commodities of FITS Bacarra.