About Us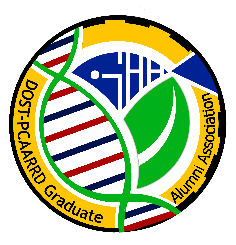 The DOST-PCAARRD Graduate Alumni Association (DPGAA) Inc. is a non-stock, non-profit association corporation based at DOST-PCAARRD Innovation and Technology Center, Los Baños, Laguna. Formerly known as PCAARRD Scholars Association, Inc. (PSAI), the Association is registered at the Securities and Exchange Commission (SEC) since September 20, 2017.
The Association exists to:
Forge liaison in upgrading research and technology management in the country through various activities such as conferences, seminars, and dialogues, among others;
Provide a venue for information exchange related to research and development (R&D);
Provide support to the NAARDN and institutions of allied sciences, in terms of innovative ideas and other services in ensuring relevance and excellence in R&D in the country support of regional and national development goals;
Establish linkages with other similar organizations and institutions, locally and abroad; and
Promote camaraderie, brotherhood and solidarity among its members.
Who can be a member of DPGAA?
Membership to DPGAA is open to all scholars of DOST-PCAARRD and recipient of other DOST scholarship programs related to the agriculture, aquatic and natural resources (AANR) sector.
There are three types of membership, as follows:
Regular or Life Members. DOST or PCAARRD scholars who completed their respective degree programs through the scholarship. Associate Members may apply to be elevated as Regular members (with corresponding membership fees).
Associate Members. Current scholars of DOST-PCAARRD and relevant DOST scholarship recipients.

Honorary Members.

The Association may also accredit to those who have outstanding accomplishments in their field of specialization and/or contribution to the Association. This type of membership may be awarded to presidents of identified State Universities and Colleges (SUCs), Regional Research and Development Coordinating Council (RRDCC) chairpersons, and other heads of institutions who are neither DOST-PCAARRD nor DOST scholars. Awarding of this type of membership is subject to approval of the DPGAA Board.

Download Member's Information Sheet

DPGAA Board of Directors (2022-2023)
| | | |
| --- | --- | --- |
| Name | Agency | Email Address |
| Juantio T. Batalon | DOST-PCAARRD | This email address is being protected from spambots. You need JavaScript enabled to view it. |
| Arnolfo M. Monleon | MarinduqueSC | This email address is being protected from spambots. You need JavaScript enabled to view it. |
| Ravelina R. Velasco | CLSU | This email address is being protected from spambots. You need JavaScript enabled to view it. |
| Diana Rose P. Cabello | DOST-PCAARRD | This email address is being protected from spambots. You need JavaScript enabled to view it. |
| Ruel M. Mojica | CvSU | This email address is being protected from spambots. You need JavaScript enabled to view it. |
| Wilfredo A. Dumale, Jr. | NVSU | This email address is being protected from spambots. You need JavaScript enabled to view it. |
| Archiebald Baltazar B. Malaki | CTU | This email address is being protected from spambots. You need JavaScript enabled to view it. |
| Rolando F. Hechanova |   | This email address is being protected from spambots. You need JavaScript enabled to view it. |
| Rodolfo O. Abalus, Jr. | PalawanSU | This email address is being protected from spambots. You need JavaScript enabled to view it. |
| Ramon A. Razal |   | This email address is being protected from spambots. You need JavaScript enabled to view it. |
| Danilo C. Cardenas |   | This email address is being protected from spambots. You need JavaScript enabled to view it. |
| Max P. Guillermo | TAU | This email address is being protected from spambots. You need JavaScript enabled to view it. |
| Reynaldo V. Ebora | DOST-PCAARRD | This email address is being protected from spambots. You need JavaScript enabled to view it. |
| Fezoil Luz C. Decena | DOST-PCAARRD | This email address is being protected from spambots. You need JavaScript enabled to view it. |
Contact Us
For more information and queries, you can reach us though the following contact information:
Secretariat Address: 3/F DOST-PCAARRD Innovation and Technology Center
                                    PCAARRD, Los Baños, Laguna 4030, Philippines

  (049) 536-0014 to 20 Loc. 237 or 243
          (049) 523-8441

  This email address is being protected from spambots. You need JavaScript enabled to view it.

  facebook.com/dpgaa2017