To revitalize research and development (R&D) collaborations in vegetables, the Philippine Council for Agriculture, Aquatic and Natural Resources Research and Development of the Department of Science and Technology (DOST-PCAARRD) held a meeting with the World Vegetable Center (WorldVeg) at the Council's headquarters in Los Baños, Laguna.
DOST-PCAARRD Executive Director Reynaldo V. Ebora and Deputy Executive Director for Administration, Resource Management and Support Services (ARMSS) Melvin B. Carlos welcomed Dr. Yann-rong Lin, WorldVeg Deputy Director General for Partnerships.
Dr. Lin's visit sought to identify common R&D interests or topics for possible collaboration between WorldVeg and DOST-PCAARRD. During the meeting, Dr. Lin presented the background of WorldVeg and its projects on vegetable crops varietal improvement, safe production practices, postharvest processing, and marketing.
Dr. Ebora appreciated Dr. Lin's presentation and said, "I hope that this meeting will be the start of a strong relationship between DOST-PCAARRD and WorldVeg." 
Meanwhile, the Crops Research Division (CRD) Director Leilani D. Pelegrina presented initiatives under DOST-PCAARRD's Industry Strategic S&T Program (ISP) for Vegetables, one of the 11 priority crop commodities of the Council. Dir. Pelegrina highlighted the joint projects under the Manila Economic Cultural Office-Taipei Economic Cultural Office (MECO-TECO) S&T Cooperation Program on squash, tomato, and pepper.
DOST-PCAARRD and WorldVeg are expected to sign a Memorandum of Understanding (MOU) by October this year to formalize their renewed partnership. It is set to underscore several areas of collaboration, such as webinars on topics of mutual interest (e.g., technology transfer and policy analysis and advocacy); joint R&D activities on varietal improvement, germplasm research, the artificial intelligence of things (AIoT), and cultural management; and long-term engagement and capability programs on plant viruses.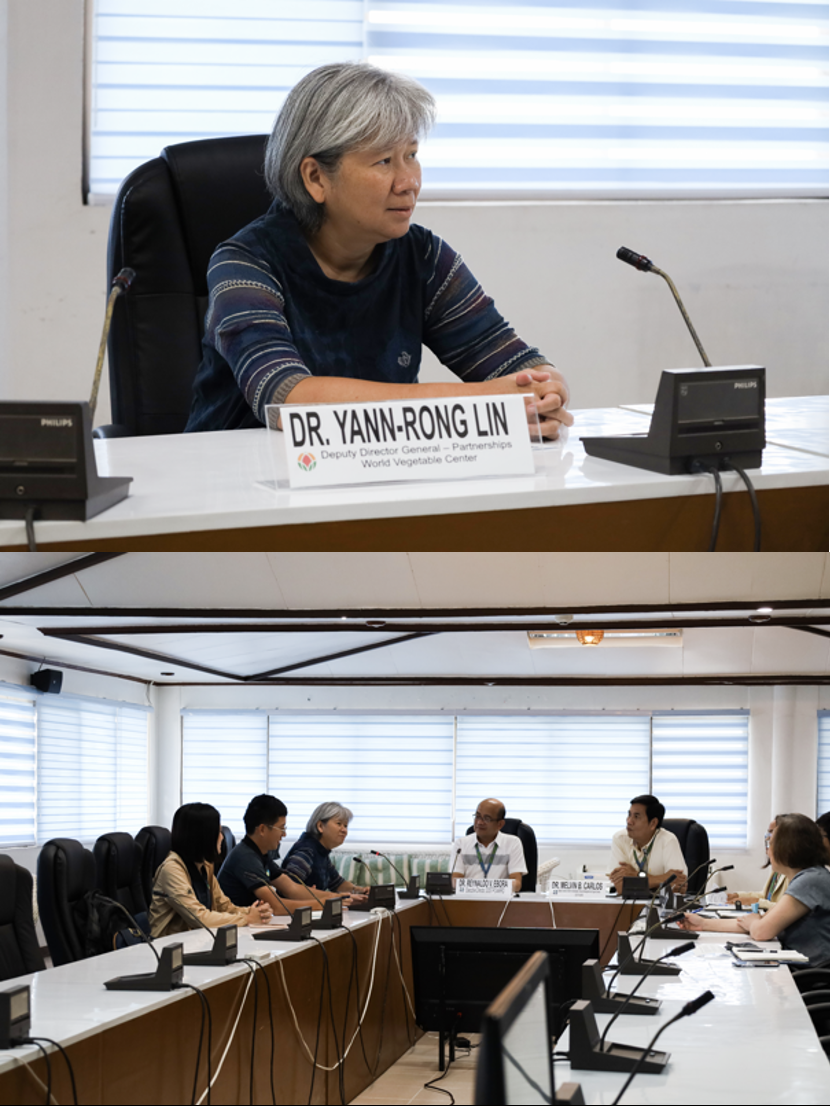 Also present during the meeting were Policy Coordination and Monitoring Division (PCMD) Director Lilian G. Bondoc, ISP Manager for Vegetables Joel Norman R. Panganiban, and other key staff of DOST-PCAARRD.
About the collaboration
In 1975, the Philippine Council for Agricultural Research (PCAR), now PCAARRD, and the Asian Vegetable Research and Development Center (AVRDC), now WorldVeg, signed a Memorandum of Agreement (MOA) for scientific and technical cooperation in research on vegetable and other root or legume crops. The modes of cooperation under this agreement included the exchange of S&T experts and scientific literature, information, and methodology, use of experimental areas and facilities of the PCAR national research network, establishment of mutual relations between the scientific and technical divisions of the organizations of the respective parties, development of mechanisms and establishment of facilities for exchange of S&T experts, and grant of fellowships to scientists and researchers.
As early as 1975, AVRDC has been aiding the Philippine Outreach Program on Crops. Moreover, a total of 49 Filipino Scientists were trained through this cooperation.
PCARRD and AVRDC signed an MOU on the implementation of the Collaborative Vegetable Research Program in Southeast Asia (AVNET), a project supported by the Asian Development Bank Philippines in 1989 and "Promoting the Vitamin- and Antioxidant-rich IVs among Resource Poor Households in Eight Asian Countries" in 1993. 
Major accomplishments of this collaboration were the developed varieties ofmungbean, soybean, sweetpotato, Chinese cabbage, and AVRDC tomato lines, which were used by Filipino farmers.
With headquarters in Taiwan, WorldVeg conducts research and promotes awareness of the importance of vegetables in alleviating health and global poverty.
The research center also houses  the world's largest public vegetable genebank, which contains 65,152 accessions from 155 countries.