The Philippine Council for Agriculture, Aquatic and Natural Resources Research and Development of the Department of Science and Technology (DOST-PCAARRD) joined the Philippine Commission on Women (PCW) and the whole nation in celebrating the National Women's Month last March 2023 with its new theme for the next six years, "WE for gender equality and an inclusive society."
To promote gender equality and inclusivity, the Council launched a series of activities for the whole month of March that included a webinar series, an online collage contest, a film showing, purple Wednesdays, and purple online and icon campaigns. These activities were held at DOST-PCAARRD and its online platforms to boost the country's achievements in women empowerment and inclusivity by emphasizing their advancements in digital spaces.
DOST-PCAARRD's Women's Month Celebration (WMC) kicked off with a webinar series that tackled three Gender and Development (GAD) topics. The first webinar, "Safe Online Spaces," took place on March 13 and was presented by Ms. Renifer R. Francisco, a member of the PCW National GAD Resource Pool (NGRP) and the President of the Gender Empowerment Consultancy and Advocacy Firm (GECAF). Ms. Francisco highlighted the critical points of the Safe Spaces Act (RA 11313) and shared strategies for combatting gender-based online sexual harassment (GBOSH).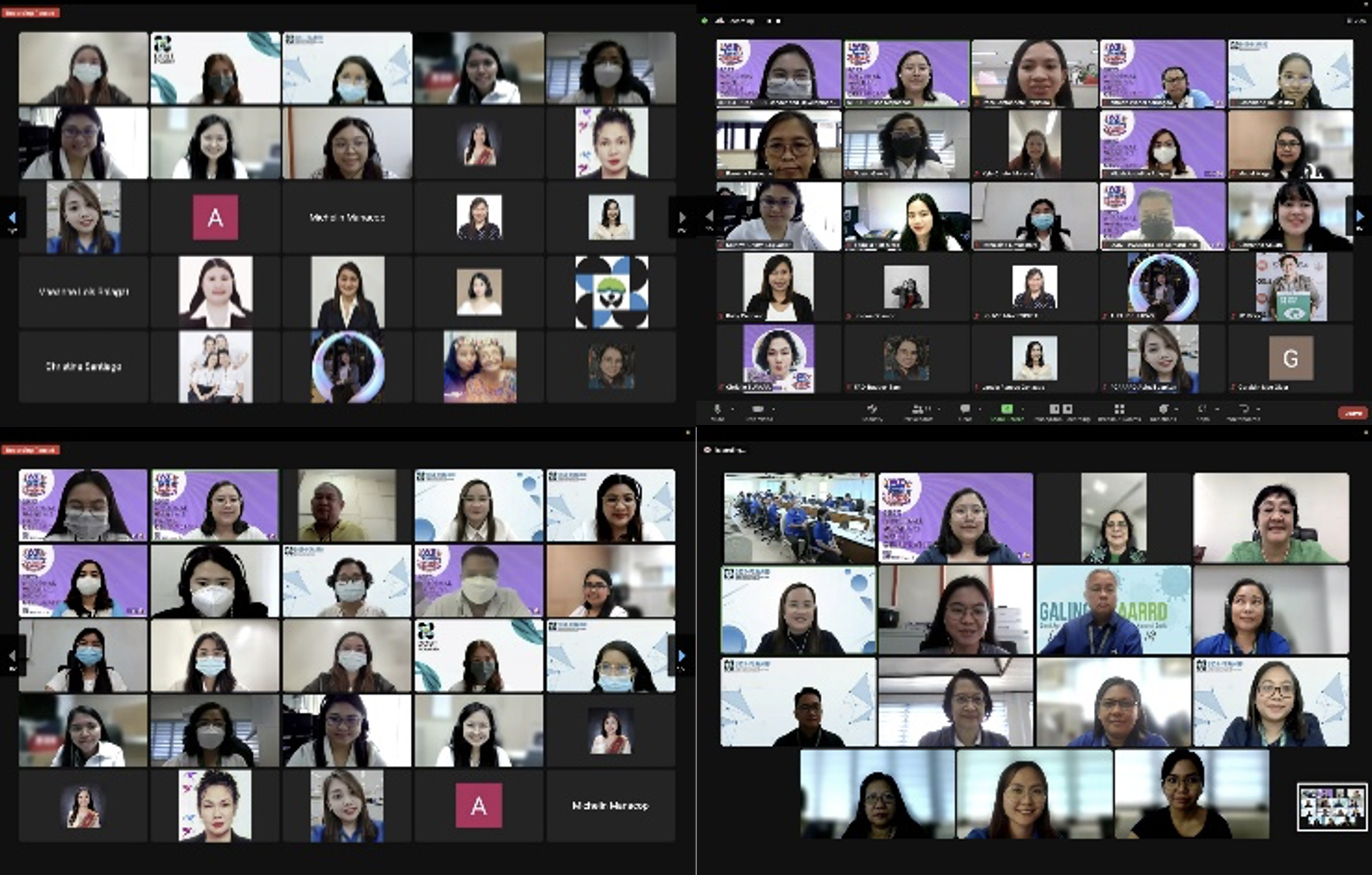 The second webinar, "Gender Sensitivity in the Workplace," held on March 20 was led by Mr. Anastacio M. Marasigan Jr., Assistant Professor from De La Salle University specializing in GAD studies. Mr. Marasigancovered various forms of discrimination in the workplace and provided important tips on creating a safe and inclusive work environment.
The last webinar was conducted during a Directors' Council (DC) Meeting to recapacitate DOST-PCAARRD towards a gender-responsive institutional development. DC Members and ASec. Diane L. Ignacio, DOST-wide GAD Focal person, graced the event. Assistant Secretary Ignacio praised the Council's excellent effort in gender mainstreaming and expressed her support for DOST-PCAARRD's WMC.
In his closing speech, DOST-PCAARRD's Executive Director, Dr. Reynaldo V. Ebora, acknowledged the necessity of GAD integration for the Council to achieve gender-responsive R&D governance towards sustainable development.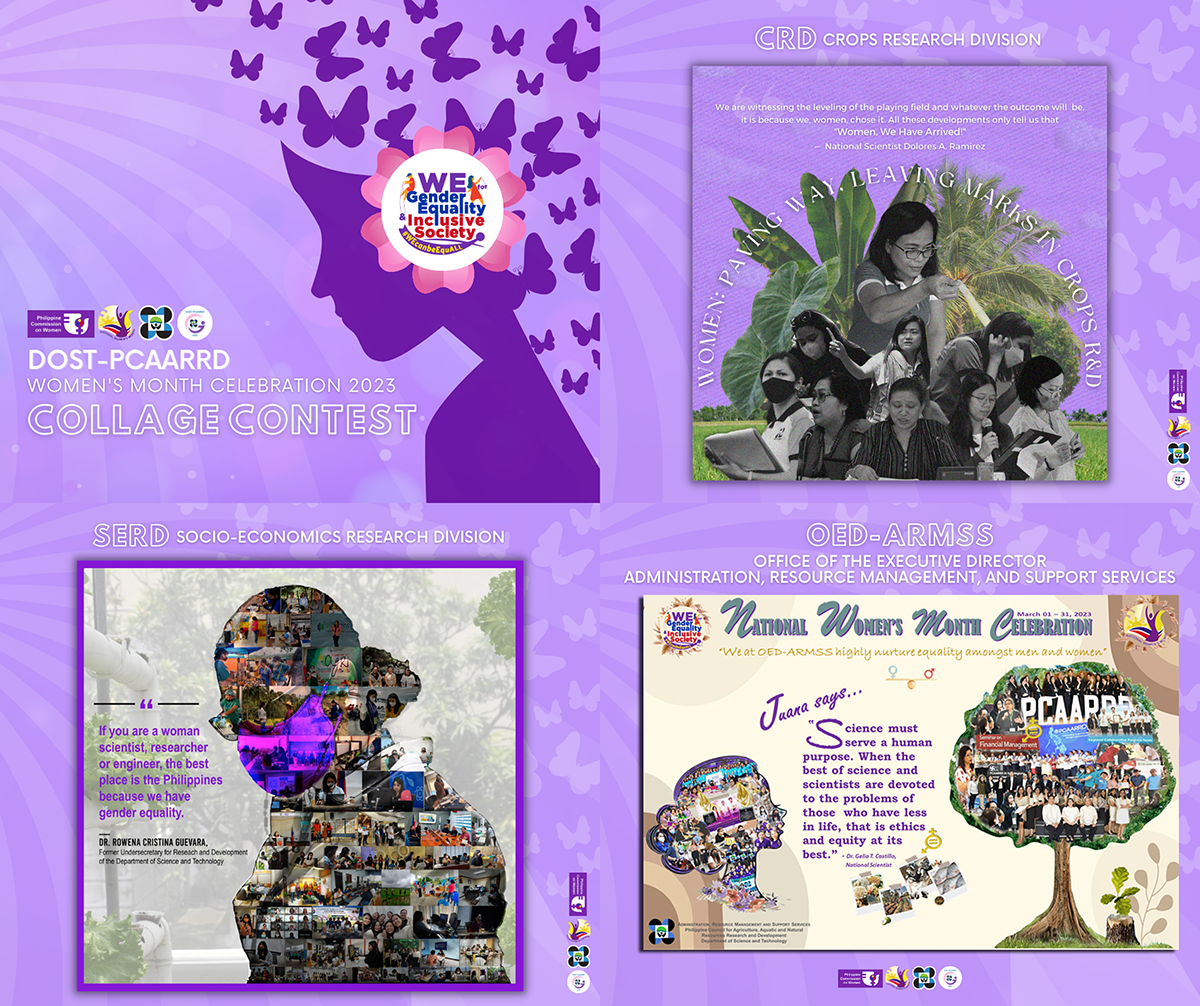 The month-long event concluded with a program that included a film showing and the awarding of the winners of the collage contest. Dr. Ernesto O. Brown, DOST-PCAARRD Socio-Economics Research Division (SERD) Director, welcomed the participants to the culminating program and emphasized women's leadership roles in different institutions and sectors. 
During the awarding ceremony, the Crops Research Division (CRD), SERD, and Office of the Executive Director for Administration, Resource Management, and Support Services (OED-ARMSS) were declared 1st, 2nd, and 3rd place winners, respectively.
This year's campaign activities were conducted through the initiative of the GAD Secretariat under SERD, representing DOST-PCAARD's continued commitment to making a genuine, inclusive society a reality.