About the Campaign
With the CoViD-19 pandemic affecting much of the whole world in 2020, people had to learn to adapt and continue life amidst the health restrictions and unique challenges of the time. DOST-PCAARRD facing the same challenges had to adapt and continue its work to contribute to addressing the fears, doubts, and insecurity prevailing among the public. The Council had learned how to reach out to people mostly confined to their own homes and mobility restricted.


As a quick response to the government-led efforts against the CoViD-19 pandemic in accordance with the Bayanihan to Heal as One Act, DOST-PCAARRD launched the GALING-PCAARRD Kontra CoViD-19 Program. The Council through this program opened up facilities, devised new strategies, and ramped-up its traditional and social media initiatives and efforts.


A total of 64 projects and 12 activities and initiatives from existing DOST-PCAARRD projects had been approved with an estimated total investment of PhP 174 million in collaboration with over 48 partner institutions. As of March 11, 2021, there were 50 ongoing projects across the Philippines: 32 projects in Luzon, 5 in Visayas, and 13 in Mindanao. By sector, there were 28 projects under crops, eight aquatic, six livestock, five forestry, and three cross-cutting.
Components of the GALING-PCAARRD Kontra CoViD-19 Program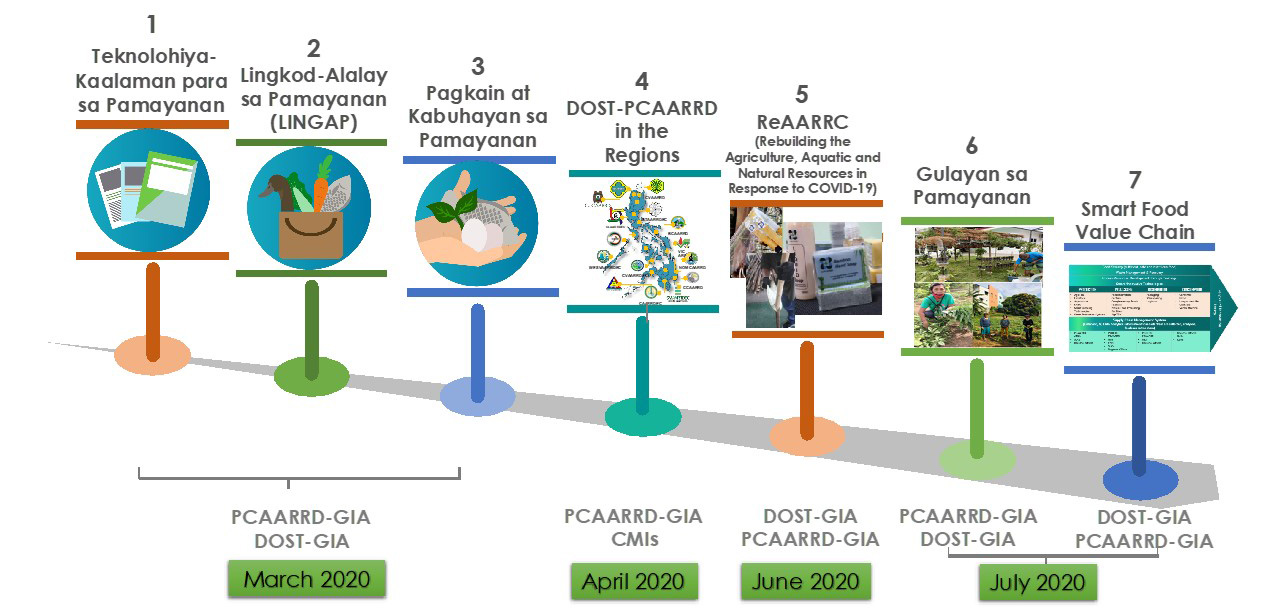 Component 1. Teknolohiya-Kaalaman para sa Pamayanan.
Component 2. Lingkod Alalay sa Pamayanan
Component 3. Pagkain at Kabuhayan sa Pamayanan
Component 4. DOST-PCAARRD in the Regions
Component 5. Rebuilding the Agriculture, Aquatic and Natural Resources in Response to CoViD-19 (ReAARRC)
Component 6. Gulayan sa Pamayanan
Component 7. Smart Food Value Chain Program
Organizational structure of GALING-PCAARRD Kontra-COVID-19 Program