| | |
| --- | --- |
| | Bicol Consortium for Agriculture, Aquatic and Natural Resources Research and Development (BCAARRD) |

Establishment and Membership
On January 26, 1976, five (5) research centers/colleges bound themselves under a memorandum of agreement to form the Bicol Agricultural Research Complex (BARC) to support the National Research network (NRN) in agriculture and natural resources and to optimize the use of limited resources in the region. It was later named as Bicol Consortium for Agricultural Resources Research and Development (BCARRD).
Through the challenging years, it welcomed more members to its fold, and evolved into the lives of Bicolano farmers. More technologies were generated and adopted that contributed to agricultural development.
Last February 6, 2004, the base agency of BCARRD was transferred to Bicol University.
In 2014, BCARRD was renamed as Bicol Consortium for Agriculture, Aquatic and Natural Resources Research and Development (BCAARRD). It continues as a partner in countryside development. Its twenty-two (22) strong and dynamic member institutions with specific mandates, move ahead in pursuit of a common goal. Through the Consortium arrangement, the member-agencies are able to optimize the utilization of their human and physical resources on crops, livestock, fisheries, soil and water resources, forestry and socio-economics.
BCAARRD is open to government and private institutions/organizations engaged in research and development activities related to agriculture, aquatic and natural resources. Application for membership is acted upon the recommendation by any of the member-agencies and approval by the RRDCC. Criteria for membership as prescribed by the National Agriculture and Resources Research and Development System (NARRDS) are the bases for the admission as new members.
Vision, Mission, Objectives
Vision
Dynamic leader in S&T development, management and governance for inducive industries in the Bicol Region.
Mission
To institutionalize and promote integrated S&T supportive to the regional and national development.
Objectives and Goals
To effectively utilize research results in attaining the goals of sustainable regional development.
{sliders Organizational Structure}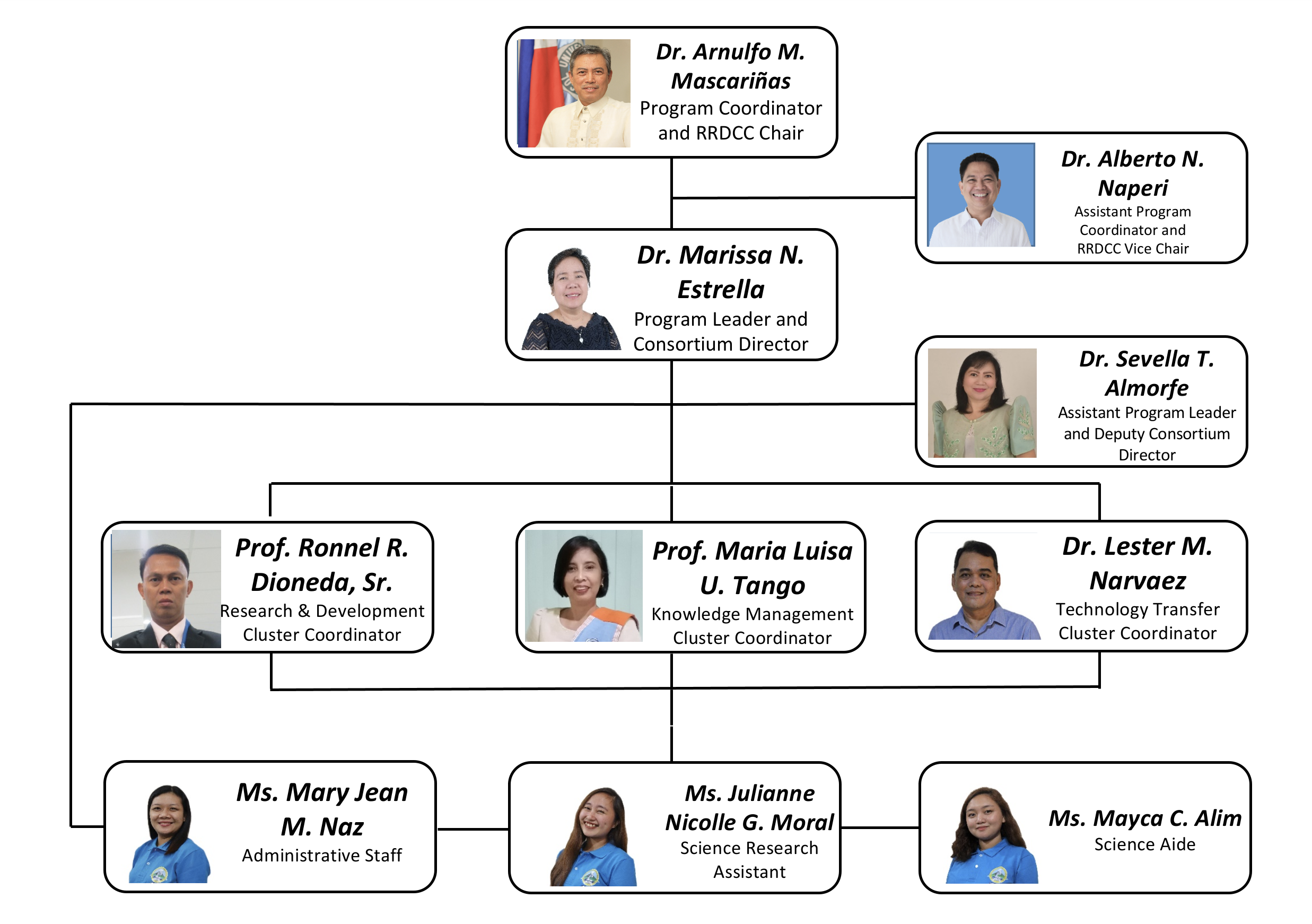 Regional Priority Commodities
List of Ongoing PCAARRD-funded projects (as of February 2023)
Consortium Member Institutions (CMIs)